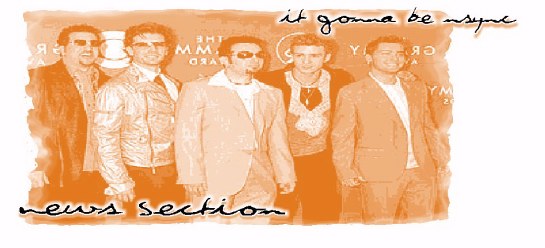 'Nsync's Bass One Step Closer To space: "I know I Can Do It'
"Let's just say the doctors know more about me than I know about me," Lance Bass told reporters convened for a press conference at Moscow's Savoy Hotel.
For the last four months, the 'NSYNC star has endured a battery of physical examinations in the pursuit of becoming the next civilian in space (see " 'NSYNC's Lance Bass Plans To Leave Earth"). On Friday (May 31), he announced that he'd finally passed the medical component of qualifying for a seat on a Russian rocket mission this fall (see " 'NSYNC's Lance Bass In Moscow For Space Tests").
"With such a thorough physical, you're going to find things that you might need to take care of," Bass said, explaining an outpatient procedure he underwent earlier this month in Boston to correct an irregular heartbeat, his last obstacle before finishing his centrifuge and pressurized chamber tests (see "Lance Bass Continuing Space Tests In U.S."). "Even though that might not cause any problems in space, we wanted to check it out further, so I had a procedure, and it totally cured it . ... I was surprised it worked, because I was getting down, like, 'I'm not going to get to go.' "
Though getting certified by the state medical commission was a major hurdle, it doesn't ensure a ticket to ride. "It's a gamble," Bass said. "I like to be positive. I'm an optimist, so I'm pretty confident that we will be able to pull this off. I know physically I can do it, I know mentally I can do it. We just have to work out the fine little details."
Some of those little details include not-so-little matters of funding, since it costs $20 million for a civilian to join a cosmonaut crew and visit the International Space Station. But thanks to RadioShack, the first corporate sponsor to step up to the space plate, Bass has a down payment for the mission: one-fourth of the total cost. That gains the pop star entry to start training at Star City near Moscow next week. "I love Russia," Bass said, "and I definitely can live here for the rest of this year for this mission. I can't wait to."
While training, Bass is determined to learn Russian, at least enough to be considered "quasi-fluent." He said he plans to start tutoring in a week. "I can't wait to learn a new language," he said. "It's going to be difficult, but I'm looking forward to it."
Training alongside Bass will be his space tourist rival, Lori Garver, a former NASA official who has since become Bass' backup should he be unable to go. "The plan is, I would love to go up in October," Bass said, "and she'll go up in April," when the next scheduled Russian rocket would launch. (Soyuz rockets fly every six months to the ISS.)
"I have learned so much from this lady in the last two weeks," Bass said of Garver. "We met in D.C. a month ago and I immediately loved her. She's so brilliant and is so dedicated to this project. ... She's like a human encyclopedia when it comes to space. And I definitely wouldn't have had so much fun without her being right there. We've had some good times here in Russia."
While the two start training, they need to finalize their funding issues so that the Russian Space Agency can consider both of them as candidates. The Russian Space Agency said earlier this week that it hadn't received proposals from either Bass or Garver and cautioned that there would be little chance for either to complete the five months of required training before the next rocket launch on October 22, and that a cosmonaut — not a space tourist — would get the seat instead.
"The Russian Space Agency has released a few things," Bass said, "and basically, that's because they're telling the truth. They have not gotten a formal proposal on it yet. And what can they say when they don't have anything in their hands? And that's what we're waiting on now. We had to get all our ducks in a row before we can submit a formal proposal, which is going out next week, I believe."
Though he doesn't anticipate any problems with his candidacy, Bass acknowledged that there is no guarantee he'll get to blast off. "Nothing is certain, I think, with any mission," Bass said, "up to a week before it goes up, before they choose the final crew."
Even if Bass were selected, his worries aren't over. The trip itself isn't without its dangers, and the insurance polices alone are overwhelming. Bass said that he remains undaunted and keeps his eye on what he could accomplish, were he granted the opportunity. Thus far, a camera crew has been documenting his physical examinations and procedures — including the one for his irregular heartbeat — for a proposed documentary/reality show to air on a network that has yet to be announced. Showing what testing and training entails, he said, could be educational as well as drum up interest in the space program.
"Of course, there is danger in anything you do, and this is a dangerous thing," Bass said. "But when you're surrounded by so many incredible and brilliant people, down to the little nitpicky problems that might arise, they will know what to do. So I put my life in hundreds of people's hands.
"I'm just excited about it," he continued. "Of course, I'm nervous about it. I will be very nervous the day of the launch, but it's more exciting to me. ... It takes guts to do what everyone here is doing. You feel like a pioneer in creating something new. I'm glad that we're actually bringing back interest in the space program. ... It makes me feel like a great spokesperson for the space program."
To that end, Bass hopes to conduct scientific experiments aboard the ISS, as did previous space tourist Mark Shuttleworth in April, so that he can bring something back for kids to learn about in school. Though he hadn't determined what his focus would be just yet, he said he's interested in environmental studies and physics.
"I've learned so much in the last three weeks here in Russia, things that I never knew existed: the difference between cosmonauts and astronauts and [between] NASA the Russian Space Agency," he said, "It's just amazing [to learn] how far they have gone and how advanced they are. I'm excited to bring that to television and to the public — the way Russia works, the way America works and how we're all united now and finally sharing space together. That's a huge thing to show."
NEWS - *NSYNC's Lance Bass Recovering From Minor Surgery
NSYNC singer Lance Bass recently underwent an outpatient "surgical procedure" to correct an irregular heartbeat, his publicist told Reuters on Thursday (May 16). The procedure was performed several weeks ago in order for the singer to be able to pass the intensive training required to become the world's first pop singer to take a Russian Soyuz rocket to the International Space Station.
The surgery was an outpatient procedure and Bass is doing well. The singer's heart condition was "not even remotely life-threatening," Bass' publicist told Reuters. "It's something he had wanted to correct for a long time, but being that he's planning to go into space, it prompted him to move it up a bit."
Destiny Productions in association with The William Morris Agency will develop a television special about the singer's Space Flight to be titled, Celebrity Mission: Lance Bass. The website lanceinspace.com has also been established to document the singer's training for the mission.
In related news, an announcement is expected on Monday (May 20) regarding the on-sale date for tickets for *NSYNC's Challenge For The Children IV celebrity basketball tournament fundraiser. Tickets are tentatively scheduled to go on sale during the first week in June via Ticketmaster, and the event will take place in Orlando on July 27 and 28.
'NSync's Lance Bass eyes seat on a Russian spacecraft
'NSync's Lance Bass is in talks with Russian authorities that could place the singer aboard a Soyuz rocket in November, Reuters reported: "The $25 million deal would include the right to film the 22-year-old teen idol in space for a television special, possibly including Bass singing, and would be partly funded from advertising deals with big brand sponsors based on planet earth." In a statement, Bass said, "I am completely overwhelmed at the invitation. I'm looking forward to completing this lifelong dream."
from:
Posted : 3/25/02
'N Sync's Bass Moving Ahead With Space Journey

The space flight ambitions of 'N Sync's Lance Bass were given a boost Friday by electronics manufacturer Radio Shack, whose funds allowed the pop star to begin medical screening at Star City, Russia's Institute for Bio-Medical Problems. The tests will determine whether Bass has the physical capabilities to journey to the International Space Station (ISS) aboard a Russian Soyuz rocket.
Further examinations would be required, as would approval from the Russian space agency, which told Interfax news agency today (March 25) that it has not yet received an official application from Bass.
If Bass, 22, passes the screening, he will enter six months of cosmonaut training before boarding the rocket in Kazakhstan Oct. 22 for a 10-day journey to the ISS. As previously reported, the entire process is being filmed by sponsor Destiny Productions (in association with the William Morris Agency) for a planned television special, dubbed "Celebrity Mission: Lance Bass." Radio Shack and other corporate sponsors are financially supporting the endeavor.
Jim McDonald, Radio Shack senior VP of marketing and advertising, said in a statement that the company's sponsorship of Bass is a logical extension of its space-related advertising program. Last year, the company filmed the first ISS-based television advertisement, which showed station commander Yuri Usachev receiving a Father's Day gift of a "talking picture frame" from his daughter, brought to the ISS via a Soyuz rocket.
Last year, Dennis Tito became the first space tourist, blasting off on an eight-day trip to the 16-nation international space station for which he reportedly paid the Russian space agency $20 million. The next tourist to go into space will be South African Internet tycoon Mark Shuttleworth, who is scheduled to fly to the space station in April. Russian officials have not released the contract sum, but Shuttleworth said he would pay roughly the same amount as Tito plus some extra for conducting scientific experiments.
Bass performs with 'N Sync tonight in Denver in the midst of the group's spring tour. He plans to finish out the current run of dates -- which close April 18 at Philadelphia's First Union Center -- before his six-month training window would begin.
Posted : 5/24/01
Nsync Join the Aginist Drugs
The Office Of National Drugs Control Policy (ONDCP)
and the multi- platiunm Band NSYNC have Joined forces
to help pervent Drug Use among the america's Youth.
During Band's upcoming 2001 Pop Odyssey tour Nsync will unveil
a new National Youth Anti-drug Compaign public Service
announcement ( PSA) that freatured band . members talking
about their anti - Drugs , The people and things that stand
between them and drugs . The PSA will be shown at Nsync upcoming
contert in 45 U.S. cities beginning May 23 . * Nsync also feature the
Media Campaign PSA on the band off icial stie . www.nsync.com
Acting ONDCP director Edward H. Jurith , Said , " there probably isn't any
pop today more relevant to our early teen audicnce then Nsync . We think
having them as apart of our yought anit - drug campaign team is really going
raise the volume on our message to kids I congreatulate them on theie commitment
to this effort." The National Youth Anti- Drug Media Campaign Is and most
Compreensive public Health media campaign ever undertaken by Federal
Government ONDCP conduct the campaign with key support form the Partnership for durg free
America Congess authorized a Five - year multi-media campaign designed
to educate and enable America's youth to reject illegal drugs. The Campaign targets Yougth ages 11- 18 , But fouses espeically on vulnerable "tween' audience age
11- 14. The "My anti Drug" Message is part of a nationwide advertising within the campain that reached
millinons of target - age children since it was lauched late
last year
Posted:5/24/01
'NSYNC Tour Opener: Dirty Pop And Matching Chaps
JACKSONVILLE, Florida — 'NSYNC have found themselves in a pickle. The group's forthcoming album, Celebrity, has been shelved until mid summer. The Backstreet Boys' most recent record, a bellwether for Celebrity if ever there was one, wasn't quite the huge success the Boys' previous two were, causing some observers to even decree teen pop dead. And come to think of it, no one in 'NSYNC is even a teen any more.
What's a boy band to do? Well, creating the largest musical production in concert history is one solution.
The PopOdyssey Tour began Wednesday in Jacksonville's Alltel Stadium with a video montage chronicling the history of 'NSYNC to date: here's how they met, here's how they started, here's how they sued for control of their careers and here's how they became celebrities.
After the video, the five song-and-dance superstars emerged from a translucent pod at the center of the stadium. From there they pranced down a catwalk and ascended their stage, a metallic fortress replete with video screens, conveyor belts and elevators.
They opened with "Pop," the first single from Celebrity. It's the latest in a long line of 'NSYNC rave-ups, noteworthy for a couple of reasons. Fans call the song "Dirty Pop," in reference to the much-repeated refrain. Thing is, it's no dirtier than many of the old, vaguely suggestive 'NSYNC songs. By keeping the word "dirty" out of the title, the song stays parent-friendly, but by keeping the word "dirty" in the lyrics, it makes the group seem edgier, even if it's not. A nice example of having it both ways.
"Pop" also represents Justin Timberlake's unofficial ascension to group leader. In addition to singing all the verses, he remained the focal point for 'NSYNC's high-concept dance choreography throughout the song. Come to think of it, he was center-stage throughout just about every song. He's always been a fan favorite, but it looks like his bandmates are finally giving him a larger share of the spotlight.
After "Pop" came a brisk spin through "Tearin' Up My Heart," and soon after that member Lance Bass addressed the crowd. "Tonight is very special for us," he said, "because you're going to get to hear most of our upcoming album, Celebrity, before anyone else in the world."
And with that, they dove into ..."God Must Have Spent a Little More Time on You," from their 1998 debut album.
Later in the show the band actually did reveal some of Celebrity, to the shrill delight of the young female audience. The songs tend to borrow from the accessible end of electronica, co-opting the basic principles of two-step or drum and bass, then sanitizing them and making them a little more pop-friendly.
They're certainly catchy — this is 'NSYNC we're talking about — and the audience loved them, a good sign for the folks back at Jive.
The show featured a number of costume changes, presumably intended to represent the different faces of celebrity. The band became everything from Prohibition-era dandies to cowboys in matching chaps.
During "Space Cowboy (Yippie-Yi-Yay)," the guys rode five silver mechanical bulls, which lovingly bucked them as they waved their arms above their heads. Afterward, it was hard to tell whether member Chris Kirkpatrick was kidding when he ripped off his chaps and said, "These are the most ridiculous things I've ever seen in my life."
Every so often, another video would roll. Once it was a silent film parody, another time it was JC fighting with his gold-digging girlfriend. And at various points fireworks exploded, smoke poured, lasers flashed and 'NSYNC glided across the
stadium on a rip cord.
Part commentary on fame, part multimedia indulgence, the concert certainly proved 'NSYNC's resolve. They're not ready to quit, and they're determined to turn their third record into a hit. By the time the tour is over, we'll know if they succeeded.
Posted 5/24/01
N'sync Strikes A Pose
This summer, *Nsync, AmuseMatte Corp., and Fuji Photo Film USA, Inc. have partnered to create an *Nsync's branded, one-time-use camera bearing the likeness of Chris, JC, Joey, Justin and Lance. The cameras will be available for purchase at concert venues beginning on May 23rd, with $1 dollar from every one-time-use camera sold to be donated to *Nsync's Challenge for the Children Foundation. This year's ultimate goal is to raise $1 million for this beneficial foundation that provides financial support to children's programs and other charities around the country.
*Nsync's 2001 Popodyssey tour, the group's 43-date stadium tour, crossing the country from May 23rd-August 24th, is set to become the interactive concert event of the year. During each performance of *Nsync's title track from their new album Celebrity, the audience will literally be a part of the show as they take pictures of the group's performance. At every show, during the performance of "Celebrity", 20 lucky fans will have the opportunity to take pictures of the group up close with their *Nsync cameras. In addition, fans will have a chance to win a day with *Nsync's Chris Kirkpatrick at the offices of his own clothing line, Fumanskeeto Inc.
In addition to the proceeds earned from camera sales, *Nsync's Challenge For The Children Foundation will further benefit from the group's generosity as they host *Nsync's third annual Challenge for the Children event in Las Vegas on July 27-29. Last year, this special weekend featured participants such as Pink, Queen Latifah, Jordan Knight, and several NBA superstars. Here is *Nsync's Popodyssey 2001 tour itinerary:
Posted 5/24/01
*NSYNC... Phone Home: The Game!
*NYSNC Phone Home... Or At Least In A Computer Game
There are those in this country who would love nothing more than to find themselves trapped in a kissing booth with Justin Timberlake, uber-boy of uber-boy-band, *NSYNC. And then there are those who just want to knock him over.
Both are about to get their chance.
Stunt Puppy Entertainment is unleashing a computer game of the Fab Five (the aforementioned Justin, along with bandmates JC, Lance, Chris and Joey) onto the unsuspecting masses. To make matters more intriguing, however, is the accessory that the game will be packaged with: a plastic (and no doubt, brightly-coloured) telephone.
Debuting the *NSYNC Hotline Fantasy Phone and CD-ROM at last week's Electronic Entertainment Expo in Los Angeles, the developers revealed that the Fantasy Phone is plugged into a computer's port and acts as a controller joystick for the various games.
These include five short mini-quests: a memory game, a mimic challenge, a trivia face-off, a cryptic "kissing booth" scenario and a chance to knock over pins with the boys' faces using a giant bowling ball.
If you win each level, you gain access to 'virtual' autographed backstage passes, personal photos and a video message.
And, best of all, when the phone isn't plugged into your computer, it will apparently periodically ring you up
with text messages and sound bites from the boys.
Want to have a direct line to (the pre-recorded voice of) Lance? Now you can.
For those who already feel their heart growing faint, the PC version of the game should be in stores by September, making it the perfect back-to-school gift for someone you love. Or hate.
But *NSYNC, of course, are far from being music pioneers when it comes to home video games. Wu Tang have a fighting game, Spice Girls have a PlayStation disc, and Aerosmith lent their collective creative genius to a stand-up arcade shoot-em-up that featured copious amounts of guns and tanks and Steven Tyler.
Posted
'N Sync's new single ready to 'Pop'
NEW YORK (Billboard) - "Pop," the first single from boy band 'N Sync's forthcoming Jive album, "Celebrity," will be available Tuesday to U.S. radio stations via satellite. Co-written by the group's Justin Timberlake with Wade Robson, the track was produced by the duo with BT. MTV previewed the video for the track Thursday during "Total Request Live," and then on May 28, the music network will debut the clip on the behind-the-scenes show "Making The Video." MTV also has an 'N Sync weekend planned for July 21-22. Due out July 24, "Celebrity" is the follow-up to the band's 2000 album "No Strings Attached." That set has been certified by the Recording Industry Association of America for U.S. shipments of 10 million copies, earning the group a diamond award from the organization. As previously reported, 'N Sync will kick off a stadium tour in advance of the new album's release. The run is due to start May 23 at the Alltel Stadium in Jacksonville, Fla., and wrap Aug. 24 at the Mississippi Veterans Memorial Stadium in Jackson, Miss.
Posted 12/24/00
'NSync, Aerosmith To Play Super Bowl
Pop and rock bands join superstar lineup that includes Backstreet Boys singing national anthem.
Rob Kemp reports:
Rock and Roll Hall of Famers-elect Aerosmith and boy band 'NSync — who become eligible for the Hall in 2023 — will meet at halftime of the Super Bowl.
The two all-male quintets from different generations were announced Monday (December 18) as the halftime entertainment for what is traditionally the most-watched television show of the year.
Super Bowl XXXV is scheduled for January 28 at Raymond James Stadium in Tampa, Florida. It will be broadcast on CBS, and the halftime show will be co-produced by MTV. (Sonicnet's parent company, Viacom, also owns CBS and MTV.)
'NSync will find themselves on a broadcast that already has their arch-rivals, the Backstreet Boys, singing the national anthem before kickoff. The Backstreet Boys' participation, along with R&B/jazz singer Ray Charles, who will sing "America the Beautiful," was announced last week.
Publicists for 'NSync and Aerosmith said Monday they do not yet know what exactly the bands will do during the halftime celebration. "Everything's still being ironed out," Aerosmith's rep, Marcee Rondan, said. The Boston band, nearing completion of its first album since 1997's Nine Lives, will be inducted into the Rock and Roll Hall of Fame in March.
'NSync said earlier this month that they would begin recording their fourth album in January.
The 2000 Super Bowl halftime show featured a duet between pop singers Christina Aguilera and Enrique Iglesias, as well as performances from Phil Collins and Toni Braxton.
Posted 12/24/00
'NSync, Britney, Backstreet Boys Ruled In 2000
Other success stories for the year include Eminem, Garth Brooks, Nelly, Destiny's Child, Creed, Eagles, Beatles.
Joe D'Angelo reports:
The Recording Industry Association of America announced its year-end certifications, and to no one's surprise, teen pop racked up the most sales in 2000.
More specifically, teen pop released by Jive Records — home to best-sellers 'NSync, Britney Spears and the Backstreet Boys — accounted for nearly 31 million of the genre's total units sold.
The RIAA tabulates in terms of units, not actual albums, so a double album counts as two units, a four-CD box set as four units, and so forth. When factoring in totals by other Jive artists — R. Kelly (1.5 million), Mystikal (1.2 million), and Aaron Carter (more than 750,000), among others — the label's total units sold rises to almost 40 million. Forty million records in singel Years For Independ ladel is astoundir Hilary Rosen, RIAA president CEO "What else can you say about the success of Jive?" RIAA president and CEO Hilary Rosen said in a statement. "Forty million records in a single year for an independent label is astounding and is a testament to both their marketing savvy and true understanding of their audience."
'NSync's Jive debut, No Strings Attached, was the best-selling album of the year, having gone 10-times platinum since its release in March. The album gave the group its second consecutive diamond award, an honor presented to albums selling more than 10 million units. 'NSync's 1998 self-titled debut reached the 10 million mark in January.
Oops! ... Britney Did It Again
Teen phenomenon Spears scored her second multimillion seller this year, as her sophomore album, Oops! ... I Did It Again, was certified eight-times platinum. Her debut, ... Baby One More Time, moved an additional 3 million copies in 2000, bringing Spears' short discography to a whopping 21 million albums sold.
One of this year's more recent releases, Black & Blue, the third album by the Backstreet Boys, certified more than 8 million copies, while the group's 1996 self-titled debut and 1999's Millennium each added another million to their respective tallies.
While those numbers seem steep, they pale in comparison to a band whose youngest member is more than twice the age of any teen popper. The Beatles, 30 years after they disbanded, were recognized as the highest certified artists of 2000, thanks to the five-times platinum award presented to the Fab Four's latest release, The Beatles 1, and eight catalog albums released by Capitol that together certify upwards of 18 million units shipped to retail. All told, the Beatles have moved more than 156 million units in the U.S. alone.
The second-best-selling album of 2000, and best-selling album by a Latin artist, Santana's Supernatural, continues its rise at retail, moving another 8 million units in 2000. This brings the album's two-year certified total to 13 million. Also, the singles "Smooth" (RealAudio excerpt) and "Maria, Maria" were certified platinum, marking the first time the guitar virtuoso earned any certified singles.
Third place in the certified album race goes to Eminem, whose Marshall Mathers LP also was recognized as the top hip-hop album, with a seven-times platinum award. Slim Shady's mentor, Dr. Dre, finished 2000 with his album Dr. Dre 2001 certified six-times platinum.
Creed Mold Human Clay Into Platinum
Creed unloaded 6 million copies of Human Clay in 2000 to certify the band's second album as eight-times platinum.
Meanwhile, the Orlando, Florida, rockers' 1997 debut, My Own Prison, tacked another million to its existing total,
bringing it up to 5 million units shipped.
St. Louis rapper Nelly's Country Grammar earned the distinction of the most successful debut, with a five-times platinum certification. No doubt in part to its awards-show successes and omnipresent single, "Say My Name,"
Destiny's Child shipped 5 million more copies of their sophomore album, The Writing's on the Wall,
upping that album's total to 6 million since its release last year.
Two of country's hottest female acts, the Dixie Chicks and Faith Hill, saw their respective albums, Fly and Breathe,
reach five-times platinum status. The tie endured on the singles front as well, with Hill's "Breathe" (RealAudio excerpt)
and the Chicks' "Goodbye Earl" each receiving gold certifications. Wide Open Spaces, the 1998 debut album by the Dixie Chicks, earned the ladies diamond-award status.
But no country artist compares with Garth Brooks, whose Double Live album's certified 13 million units made him the top-selling artist of the '90s, the first solo artist to ship 100 million units, and the fastest-selling artist in music history. The best-selling record of all time, however, once again goes to the Eagles' Their Greatest Hits 1971-1975,
which regained the top spot with 27 million certified, after topping Michael Jackson's Thriller in November.
For a complete list of the 340 gold, 179 platinum and 255 multiplatinum certifications doled out by the RIAA in 2000, visit www.riaa.com.
Posted 12/24/00
'NSync To Hit Studio In January
Joey Fatone says group hopes to work with She'kspere, Richard Marx again. Teri vanHorn reports: LAS VEGAS — 'NSync will head into a Florida studio in January to begin experimenting with new music for their fourth album, the group said Tuesday."We're going to spend January and February in there and see what we can come up with," member Justin Timberlake said on the red carpet at the Billboard Music Awards.'NSync plan to work primarily in their Florida homeland but may move out of state as the project progresses, Joey Fatone said.Though the members of 'NSync vow to do more songwriting and producing this time around, they said they hope to team up again with No Strings Attached collaborators She'kspere and Richard Marx. She'kspere produced "It Makes Me Ill," while Marx wrote and produced "This I Promise You," which recently peaked at #5 on the Billboard Hot 100 singles chart. "We're going to spend January and February in there and see what we can come up with." — 'NSync's Justin Timberlake
"Just being in the studio with Richard Marx was such a cool feeling, 'cause he's someone I listened to when I was younger and looked up to," Fatone said.Timberlake said the group isn't sure whether it'll release a fourth single from March's
No Strings Attached, which is certified 10 times platinum.In other 'NSync news, Timberlake recently joined Brian McKnight
for a duet on "My Kinda Girl," a track on the R&B crooner's next album, due in the spring."He's easy," McKnight told reporters at Tuesday's awards show. "Exactly how you see him on TV — that's exactly how he is for real. He wants to give to everybody. He's not one of these guys who's so successful that he knows everything. He still wants to learn; he still wants to absorb
everything. I think he's going to be around for a very, very long time."The as-yet-untitled LP will be McKnight's first to feature guest artists; Stevie Wonder also makes an appearance.
Posted 12/24/00
'NSync Fan's Suit Claims Timberlake Verbally Assaulted Her
15-year-old says pop superstar berated her in hotel room after she yelled 'I like JC better.'
Eric Schumacher-Rasmussen reports:
An 'NSync fan has filed suit against group member Justin Timberlake, alleging that he harassed and verbally assaulted her. Danielle McGuire, 15, filed suit December 18 in a circuit court in St. Louis, Missouri, charging Timberlake with false imprisonment of a minor and intentional infliction of emotional distress, according to her lawyer, John Wallach. McGuire also charges a security guard with assault and battery in the suit, which stems from an alleged incident at a St. Louis hotel where the band was staying after a November 19 concert. He was right in her saying thing s over and over again ." lawyer " John Wallach
McGuire says that after the show, she and dozens of fans waited inside the lobby of the Chase Park Plaza hotel. When 'NSync arrived, each group member save for Timberlake talked with members of the crowd before entering elevators to
go to their rooms, Wallach said. After being snubbed by Timberlake, McGuire yelled out, "I like JC better anyway, he's cuter," referring to group member Joshua "JC" Chasez. Wallach said that a security guard for the group emerged from an elevator and asked McGuire if she was the one who made the comment. When she said she was, the security guard told her to come with him, there was some physical contact, and the two went upstairs, Wallach said.
McGuire asked if she could tell her mother, but the guard refused to let her, Wallach said. When they got upstairs, Timberlake backed McGuire against a wall and began berating her for what she said, the suit alleges.
"[McGuire] said he went on and on, and wouldn't stop," Wallach said. "He was right in her face, saying things over and over again." In the meantime, Wallach said, a friend of McGuire's went to alert her mother, who had brought the girls to the hotel. Security wouldn't let McGuire's mother upstairs, but allowed a family friend, KSDK news anchor Randy Jackson, to go get her. Jackson told Wallach that when he got upstairs, Timberlake was yelling at McGuire. When Timberlake saw the newsman, he limped off, saying that his leg hurt, Wallach alleges.
"We tried to resolve this quietly," Wallach said. "But 'NSync's lawyer told me they weren't interested."
A jury will determine damages in the suit if and when it goes to court.
'NSync's lawyer and record label did not return phone calls.
The suit also names the other members of 'NSync as a partnership, as well as the group's management company and Chase Park Plaza Limited Partnership. Wallach said that the group and management company are attached to the suit because they may be the employers of the security guards.
The suit alleges that the hotel allowed the group and its management to take control of the lobby and members of the public.
Hotel lawyers were unavailable at press time.
Posted 12/24/00
'NSync To Offer Exclusive Content To Fans Via Internet Service
Partnership with MSN will provide online access along with newsletters, photos, videos. Brian Hiatt reports: Diehard 'NSync fans who aren't satisfied with owning the group's albums, concert tickets, T-shirts and dolls can now get a little closer to the boy band by signing up for 'NSync-style Internet access.In collaboration with Microsoft's MSN, the group will launch 'NSync@MSN, a specially branded online service, on Friday. In addition to e-mail and Web access, the $21.95-a-month service promises access to exclusive newsletters, photos and video footage."We use the Internet not only as a tool to communicate with our families while on the road but to allow us to reach out to our fans in yet another way," 'NSync's Lance Bass said in a statement. "We are very excited about this venture with MSN."
The service will also include 'NSync-branded versions of Microsoft's MSN Messenger and Windows Media Player software.Several sports teams and at least one other music artist, David Bowie, have offered specially branded Net access before.Aram Sinnreich, an online-music analyst with Jupiter Communications, said that such arrangements will become increasingly common in the future."I think it really makes sense as part of a larger, integrated subscription relationship between a consumer and artist," Sinnreich said. "You'll have the ability to bundle in digital music and exclusive content with Net access. It's a great way to keep the artist's name in front of the user's eyes."In another online move, 'NSync will put a private concert up for bids on Friday at LiveBid. The auction, which will be featured on the December 7 Fox television special "The Ultimate Auction," will benefit the group's charity, Challenge for the Children
Posted 12/24/00
Puppet Makers Sue 'NSync
Sid & Marty Krofft Pictures claiming copyright infringement over use of puppets company made for boy band. Teri vanHorn reports: Sid & Marty Krofft Pictures is suing 'NSync for copyright infringement and breach of "implied-in-fact" contract over their alleged use of images of puppets Marty Krofft made for the group.The suit, filed in U.S. District Court, Central District of California, on Tuesday, names the five members of 'NSync as defendants, along with group manager Johnny Wright, his Wright Entertainment Group, merchandise consultant Rick Barlowe, Winterland Concessions Company and Winterland Productions, Ltd. "When we contacted [the defendants for payment], we were told we were not entitled to anything. All we want is our fair share." — Bruce Isaacs, Krofft lawyer
The boy band contracted Krofft to make 25-foot puppets of each of the 'NSync members for their performance of "Bye, Bye, Bye" at the American Music Awards in January. Sid & Marty Krofft Pictures, Inc., is the creator of such classic children's television programs as "H.R. Pufnstuf," "Land of the Lost" and "The Bugaloos."The suit alleges that Wright orally agreed to pay Krofft if 'NSync produced any merchandise related to the puppets but claims the defendants did not follow through on the agreement. The merchandise cited in the suit includes an image of the puppets on 'NSync's souvenir program and an image on a souvenir backstage pass laminate sold at concerts, as well as any other related material that "may" exist. Krofft also asks that 'NSync compensate him for their popular marionettes sold at toy stores, claiming they were inspired by his creative efforts.Krofft recorded the copyright registrations for the puppets in July, which gave him the exclusive rights for their use, with the exception of their AMA debut, the suit states."[Wright] promised that if they made any merchandise [from the puppets], or what we call derivative work, they would pay," Krofft lawyer Bruce Isaacs said Wednesday (November 29). "But when we contacted [the defendants for payment], we were told we were not entitled to anything.""All we want is our fair share," he said.The suit asks for actual and statutory damages, lawyers' fees and a "reasonable royalty of at least 10 percent" of monies received from sales of the merchandise.*NSync's Jive Records spokesperson could not be reached for comment by press time.
Posted
NSync Plan To Pull Own Strings On Next Album
Members say they'll have more say in redefining their sound. Senior Writer Brian Hiatt reports: *NSync plan to have even fewer strings attached on their next album, which the pop group will begin recording soon after its tour ends in December.The new album, due next summer, will find the members of *NSync crafting their own sound on a number of tracks, while also employing some of the leading R&B and hip-hop producers of the moment, according to the group and its label, Jive."This one, we're definitely gonna produce more of it," group member Lance Bass said Monday. "We've been talking about maybe getting with She'kspere again, [as well as] Timbaland, Missy [Elliott] — even Richard Marx would be great to work with again." "I just think we have to get creative again, you know, and reinvent ourselves, come out with a new style." — J.C. Chasez, *Nsync member
Kevin "She'kspere" Briggs, who has worked with Pink and Mariah Carey, among other acts, produced the track "It Makes Me Ill" on *NSync's nine-times platinum No Strings Attached, which also includes the hits "Bye Bye Bye" and "It's Gonna Be Me."Eighties pop star Marx, meanwhile, wrote and produced the hit ballad "This I Promise You," which NSync have said they plan to re-record in a country version.*NSync, who added harder-hitting R&B to their pop sound on No Strings Attached, hope to further evolve on their next release."I just think we have to get creative again, you know, and reinvent ourselves, come out with a new style," group member J.C. Chasez said. "So that's kind of what we're going to be — you know, after this tour, we'll have to kind of clear our minds of this stuff and really come up with something, you know, different and innovative." "It's hard to say where the music's gonna go," singer Justin Timberlake said. "I think we found our sound this year, so hopefully we can grow with our audience."In the meantime, *NSync will kick off the final leg of the No Strings Attached tour on Oct. 17 in Charlotte, N.C.The tour's opening acts are expected to include Bahamian pop group Baha Men — whose hit "Who Let the Dogs Out" continues to flood the nation's airwaves — as well as the pop acts Dream and soulDecision.
Posted 9/14/00
Spears confirms relationship with 'N Sync singer
(Launch) - Britney Spears has ended months of speculation by confirming her relationship with 'N Sync singer Justin Timberlake in an interview for the October issue of Elle magazine. "When you're really comfortable with someone you love, the silence is the best," said Spears. "When we're in a room together, we don't have to say anything. It's for real." The 18-year-old singer said she and Timberlake enjoyed rumors last month that the couple was engaged. "I told Justin during my show I would wear a big ring just to keep people talking," she quipped.
Posted 9/14/00
*NSync Headed For The 10

Million Mark Again Boy band poised to win second RIAA Diamond Award this year as third LP is certified nine-times platinum. Senior Writer Teri vanHorn reports: *NSync have shipped 9 million copies of their their album, No Strings Attached, since its release five months ago, according to the Recording Industr Association of America.The RIAA designated the album nine-times platinum in its August certifications, which also saw fellow popstars Christina Aguilera and Britney Spears achieve multiplatinum gains. Aguilera's 1999 self-titled debut reached the 7 million mark, while Spears' second album, this year's Oops … I Did It Again, was certified at 6 million.

If *NSync's No Strings Attached carries on its sales success, the red-hot LP could give the boy band its second Diamond Award, commemorating sales of

10 million, this year. The quintet's first album, *NSync, hit that mark in January. *NSync also have a holiday LP, Home for Christmas, that is certified doubleplatinum. Additionally, the second single from No Strings Attached, "It's Gonna Be Me" was certified gold last month. The RIAA's certifications recognize the number of records that have been shipped to retail outlets. No StringsAttached has sold 7.7 million units to date, while *NSync has sold 8.2 million, according to SoundScan. Those figuresdo not include sales for the past week, which will be released on Wednesday (Sept. 6). Also among the trade group's August certifications were rapper Eminem's The Marshall Mathers LP, at 6 million, and DMX's … And Then There Was X, at 4 million. Hip-hop newcomer Nelly received his first gold, platinum and multiplatinum certifications for his debut album, Country Grammar. Lil' Kim's second album, Notorious K.I.M., also was certified gold and platinum.

Posted 9/9/00
Mark Sept 18th on your calendar as we get ready for
the English, Spanish and Spanglish versions of *NSYNC's single 'This I Promise You' or 'Yo Te Voy A Amar' en espanol! The singles will be in a store near you! September 16th is the date! Be sure to get your tickets
for the hottest show in town
Posted 9/9/00
'NSYNC Joins Aguilera, Lopez For Latin Grammys
Orlando hitmakers 'NSYNC and Latin pop group Son by Four will join Christina Aguilera, Jennifer Lopez, and Gloria Estefan as performers at the first Latin Grammy Awards, scheduled for September 13 in Los Angeles. In addition to singing at the inaugural event, Lopez and Estefan will also co-host the show,airing in some 120 countries across the globe, with actors Andy Garcia and Jimmy Smits. For the Latin Grammys, 'NSYNC and Son g Four will perform a bilingual duet of the 'NSYNC track "This I Promise You" (or "Yo Te Voy A Amar" in Spanish) from its "No Strings Attached" album. Son By Four will then take the lead for an all-star rendition of "A Puro Dolor," the Puerto Rico group's single that topped the "Billboard" Latin charts over the summer. CBS will broadcast the Latin Grammy Awards live from L.A.'s Staples Center from 9 p.m. to 11 p.m. (ET)
Posted 9/9/00
'NSYNC, Aguilera, More Talk VMA Competition
With the 2000 MTV Video Music Awards ceremony right around the corner, the pressure is on for the star-studded nominees who are busily weighing their
chances of taking home a coveted Moonman. Some artists are content just to be recognized. Take return nominee Jennifer Lopez (whose "Waiting For Tonight" is up for two 2000 VMAs), for example. "Being nominated for awards last year and this year
is amazing to me," she explained. Other artists, such as 'NSYNC, are a bit more
cutthroat when it comes to VMA night. Apparently, despite having zillions of fans and record-breaking sales, nothing can quite fill the empty space in the group's trophy cabinet the way a VMA could.
"We haven't got a Moonman yet," the group's Justin Timberlake said longingly. "There is a chance," fellow 'NSYNCer Joey Fatone noted, no doubt recognizing the group's six nominations, which put the popsters at the head of
this year's VMA pack alongside Eminem. Considering the group's dominating year both on the charts and on MTV, leave it to 'NSYNC's Chris Kirkpatrick to overstate the obvious: "This year, if we lose, it's really gonna suck."
Sharing 'NSYNC's passion for taking home one of the little silver fellas is Toni Braxton, who's vying for Best Female Video and Best R&B Video with "He Wasn't Man Enough." "I've never gotten a guy on the moon. I really want a guy on the moon really badly," she said when asked how she felt about her nominations. "I mean, I'm not trying to be Britney Spears," Braxton explained, referring to one of her fellow Best Female nominees. And as for another member of her VMA peer group, the singer asked aloud, "Christina Aguilera is up for R&B video?" before expressing her relief that the blond pixie was not, in fact, nominated in that category.
Aguilera is, however, nominated for a whopping five
awards, including the aforementioned Best Female Video, as well as Best Pop Video, Best New Artist In A Video, Best Choreography In A Video, and the coveted Viewer's Choice award for "What A Girl Wants." The latter honor concerns Christina the most, it seems, as she's up against fellow former Mouseketeers Spears and (two-fifths of) 'NSYNC to mention R&B upstart Sisqo and her sometime nemesis Eminem.
"The Viewer's Choice kinda scares me," Aguilera said, "because it's just so up in the air, you know? It's just up to the viewers." If it was up to nominee Kid Rock to choose who (other than himself) should take home the trophy in the Best Male Video category -- where he's up against D'Angelo, Eminem, Moby, and Ricky Martin -- he's got his sights set on one man only. "I love Eminem," Kid Rock said. "You could probably guess what I think of Ricky Martin." Of course, trash talking doesn't have to be limited to artists who are nominated in the same category. Frontman Scott Weiland of Stone Temple Pilots,whose "Sour Girl" is up for Best Cinematography In A Video, recently felt the need to unload about Best Rock Video nominee Creed.
"When I listen to their music, it kind of inspires me to join a satanic church," Weiland said. One thing everyone can agree on, however, is that D'Angelo and his stripped-down video for "Untitled (How Does It Feel)" is going to provide some stiff competition. Even this year's show hosts, Shawn and Marlon Wayans, can attest to that. "Get your ass kicked by D'Angelo, naked," Shawn said, summing up how the evening could end for some of the night's nominees. "He'll hit you with his... thing."
"How does that feel?"Marlon sang in response. You'll find out just how it feels on Thursday night when MTV broadcasts the 2000 Video Music Awards live from New York City's Radio City Music Hall. MTV News' coverage of the event begins with our pre-show programming at 6:30 p.m. (ET), leading up to the ceremony at 8 p.m. MTV News Online will be providing up-to-the-minute coverage as well throughout the evening and will give viewers the chance to sound off on the show as it happens.
Posted 9/9/00
*NSync Headed For The 1 Million Mark Again
Boy band poised to win second RIAA Diamond Award this year as third LP is certified nine-times platinum. Senior Writer Teri vanHorn reports: *NSync have shipped 9 million copies of their third album, No Strings Attached, since its release five months ago, according to the Recording IndustryAssociation of America. The RIAA designated the album nine-times platinum in its August certifications, which also saw fellow pop stars Christina Aguilera and Britney Spears achievemultiplatinum gains. Aguilera's 1999 self-titled debut reached the 7 million mark, while Spears' second album, this year's Oops … I Did It Again, was certified at 6 million.
If *NSync's No Strings Attached carries on its sales success, the red-hot LP could give the boy band its second Diamond Award, commemorating sales of 10 million, this year. The quintet's first album, *NSync, hit that mark in January.*NSync also have a holiday LP, Home for Christmas, that is certified double platinum. Additionally, the second single from No Strings Attached, "It's Gonna Be Me" was certified gold last month.The RIAA's certifications recognize the number of records that have been
shipped to retail outlets. No Strings Attached has sold 7.7 million units to date, while *NSync has sold 8.2 million, according to SoundScan. Those figures do not include sales for the past week,which will be released on Wednesday (Sept. 6).
Also among the trade group's August certifications were rapper Eminem's The Marshall Mathers LP, at 6 million, and DMX's … AndThen There Was X, at 4 million.Hip-hop newcomer Nelly received his first gold,platinum and multiplatinum certifications for his debut album, Country Grammar. Lil' Kim's second album, Notorious K.I.M., also was certified gold and platinum.
Posted 8/13/00

'NSYNC Focuses On Charity, Board Game

The pop champs of 'NSYNC may be taking a break from the road right now, but the veritable cottage industry continues to barrel ahead with new projects, charitable and otherwise.
This week, 'NSYNC's camp announced that the group had raised $550,000 at its recent Challenge for the Children II charity basketball game. The boy band titans were joined by Queen Latifah, Jordan Knight, Pink, Youngbloodz, MTV's Ananda Lewis, and pro basketball players Dennis Scott, Elton Brand, Stephon Marbury, Eric Strickland, and Indiana Pacers coach Isiah Thomas at the event, which was staged at New York's St. John's University last month.
Of course, there's a very good chance that none of that is news to you at all. If you consider yourself an expert in all things 'NSYNC, you'll want to check out the 'NSYNC Backstage Pass board game, which will soon arrive on store shelves. Patch Products worked with the members of 'NSYNC to put together the game, which throws 'NSYNC questions at players as they work their way around the "stadium" collecting members of the group. The game is expected to retail for $24.
If you prefer the actual members of 'NSYNC to their board game counterparts, the guys will be on hand for the 2000 MTV Video Music Awards on September 7.

Posted 7/9/00
'N Sync, Neil Young,


Supergrass Weigh Option In Napster Debat Many artists torn in sizing up pros, cons of controversial program. Senior Writer Chris Nelson reports: Although 'N Sync smashed a sales record this year when they moved 2.4 million copies of No Strings Attached in just one week, Lance Bass is convinced his group could've sold up to a million more.

And he can pinpoint the sales-stealer in one word: Napster, the MP3-trading software that in recent weeks has ignited a debate among musicians about online piracy.

Plenty of fans, he said, had already used Napster to download No Strings Attached and its hit single, "Bye Bye Bye" , before the disc was released. "I don't think you're ever going to have that excitement of that big of a sale in a first weekanymore, because people are gonna have the

album before it's actually out," he said. "I think

sales are going to drop tremendously in thenext five years."

But it's a sign of how topsy-turvy Napster hasmade the music industry that plenty of artists have a hard time deciding on what effect it's having — even members of the same group. "We really haven't been hit hard with it yet, so it hasn't really affected us," Bass' bandmate JC Chasez said. He said he can see the impact of Napster coming down the road, but for now,he's content to let record companies wage war against the program."No matter what happens, it's gonna happen,"he said. 'You Can't Just Give It Away'Until last month, the debate over Napster — which allows users to search each other's MP3 collections and download from them was largely an argument between tech heads and label execs.

Then last month, hard-rockers Metallica and rapper Dr. Dre sued Napster Inc., charging that the company's namesake software encourages copyright infringement by allowing users to swap near-CD-quality MP3s without permission of the copyright owner.The Recording Industry Association of America filed its own copyright lawsuit last year.

In the wake of the cases, such artists as Public Enemy leader Chuck D and punk-rockers the Offspring have countered by saying the program is a great way to promote music with listeners Rap-metal group Limp Bizkit signed up Napster as tour sponsor for a free summer outing with hip-hoppers Cypress Hill.

While many artists feel compelled to figure out where they stand on the issue, few have as pat answers as rock singer/songwriter Neil Young. MP3s, he said flatly, offer sub-CD-sound, which doesn't please him. Even CD-quality doesn't make Young, an audiophile, happy. Still, what it boils down to is that artists need to be paid for their work.

"You can't just give it away," he said recently. But MP3 sharing — for which artists receive no royalties — is only becoming more popular every day, whether artists consent to giving music away or not."I think it's going to restructure the way that contracts are written for artists as far as royalties," Chasez said. "I think when an artist


delivers an album, he may have to get a flat payment for his work,

and then he's just going to have to make his money touring."Touring's good work — if you can make it profitable. But it's not that easy, according to Supergrass singer Gaz Coombes, who's admittedly bouncing back and forth on the issue.

Maybe there are a million kids who never knew about the Brit-pop act before Napster, he said, and now they're starting to dig the band because they downloaded a copy of "Pumping on Your

"At the same time, how do you survive, you know?" he asked.

"Because you don't make all your money from touring, unless

you're the [Rolling] Stones or something. So you have to make

the money from doing albums and selling millions of records. It's really hard. If it was really affecting us, I think maybe we'd be doing the same thing that Metallica and Dr. Dre are."

A Potential BacklashWhat no one knows yet is whether Metallica or Dr. Dre will experience a backlash from fans for their lawsuits. Metallica also sued three colleges where Napster was popular (the band has since pledged to drop those cases) and also promised to add individual Napster users to the suit in later filings. Members of Metallica are slated to answer fan questions about their case in an online chat Tuesday.

"I do think Metallica overstepped their bounds by suing universities and threatening to sue actual students. That can do nothing but diminish the long-term reputation and thus the sales of Metallica,"said Jello Biafra (born Eric Boucher), former lead singer for "Kill the Poor" (RealAudio excerpt) punks the Dead Kennedys. At the same time, Biafra wondered whether he'll be able to eke out a living as an independent artist if Napster and similar programs such as Gnutella and Scour Exchange are theu order of the day.

For many artists, it's a hard call to make. For years, most bands have been accustomed to worrying only about their music while. allowing a record company rep to handle that business. Artists are being called on to figure out the future themselves, because no one — not label heads, not tech companies, not fans — has the answers just yet.For right now, Veruca Salt singer/guitarist Louise Post will taks the wait-and-see approach while Metallica and Dr. Dre —musicians that 'N Sync's Chasez called "courageous" — make the first moves.

Posted 3/1/00
NO SALES SLUMP ATTACHED


You VH1.com visitors should be resolut unsurprised to learn that 'N Sync's No StringAttached remains at the top of the album chart for the fifth week in a row. For reason unknown to all but the most dedicate sociologists, sales for No Strings increased from 422,286 to 654,596 units.

You'd think that everybody who wanted No Strings had bought it by now, but that would appear to be a mistaken impression. Perhaps the fivesome's rabid fans are purchasing it several times over; perhaps record numbers of parents are wandering into record chains and asking clerks what is popular with "the kids"; perhaps those who call the group 'nsync Stink are buying the CDs just to destroy them. Perhaps, perhaps, perhaps, as the great standard written by J.M. Davis and O. Farres put it best By the way, exactly why are the boys of 'N Sync running away from that lovely young lady in the "Bye, Bye, Bye" video? She can come after u drones at VH1.com anytime!

Anyhow, the highest debut for the week ending April 23 is My Name Is Joe a record from a ruffneck R&B artist named, strangely enough, Joe, who has a hit with the ballad "I Wanna Know." Although its chart placement is

No. 2, My Name Is Joe sold 286,260 units, only a little more than a thir of No Strings' tally. Another R&B crooner, Carl Thomas, sees his Emotional debut at No. 9. One record that seemed to be invincible earlier this year was Carlos Santana's Supernatural. D'Angelo's Voodoo kept the record out the top spot for only two weeks, and then Supernatural snatched it right back. But that was before the age of 'N Sync; Supernatural is at No. 4 this week. For those keeping track, for the past three weeks Supernatural has moved down one place each week.

Sisqo, on the other hand, keeps rising. It's possible that his performance on Men Strike Back knocked Unleash the Dragon up from No. 4 to this week's No. 3. But we prefer to think that the destined-for-immortality "Thong Song" is behind Sisqo's inexorable rise. Men Strike Back probably did have a lot to do with the return of melismaniac Christina Aguilera's self-titled debut to the top 10; it jumps from No. 14 to No. 6. We hope this comes as a consolation to young Miss Aguilera, as she is no doubt not pleased to learn that Eminem's new video for "The Real Slim Shady" features her represented by a blow-up sex doll. As for rock groups, that increasingly Jurassic chart entrant, No Doubt Return of Saturn drops from No. 2 to No. 7. And, for no reason that we can discern, the inspirationally-minded Creed album Human Clay jumps from No. 12 to No. 8. Good old Kid Rock - who really is as much a rocker as a rapper - comes in at No. 10, a position his Devil Without a Cause has occupied several times in its 69 weeks on the chart.

In 1980, rock bands were still a more common sight atop the charts thannow; 1980-81 - Wall Live, a live album from Pink Floyd's landmark tour in support of The Wall, manages to hit only No. 19 in its first week. Countr crooner Vince Gill Let's Make Sure We Kiss Goodbye is the next-highest debut at No. 39, only a few weeks after he married Christian singer Amy Grant. Further down at No. 57 comes Latino rap combine Tony Touch's Piece Maker. Sadly, a collection of '80s metal called Monster Madness debuts at No. 95, four places above Elliott Smith's Figure 8, which debuts at No. 99. Go forthto the record stores and redress this unfortunate situation, VH1.com-lings: The pinhead rock critics aren't wrong about this one. Don't fool with Napster, lest Metallica get legal on your behind. Plunk it down for Smith!

Posted 4/26/00
It has been announced. Backstreet Boys will be disbanding as news of *NSYNC's success circulate the globe. The multiplatinum boy band have expressed disappointment over their sales and music when compared to *NSYNC's success. *NSYNC broke the sales record in the U.S. when they sold 2,415,859 records a week over the counter. One of the BSB band members was rumored to have said that, "We've worked so hard and so long to become the best band in the world. We wish *NSYNC all the best, but the morale of the group has plummetted to zero after we heard the news." Executives at Jive Records were both shocked and dismayed at the band's decision to quit so suddenly. "We're absolutely shocked about the news. Backstreet Boys have been with us since the beginning, and we've supported this amazing band all the way. We are dismayed that they have made such a drastic decision overnight. I am confident they will continue to sell records and be bigger than

3/30/00

Nsync bye bye bye is been retire on Trl thursday let see bye bye bye video number one on its last day.

Posted 3/28/00
Millions of screaming hysteric fans, persistent bright lights of

cameras, appearance after appearance. Many celebrities have learned to adjust their previous lives to accommodate these characteristics of fame. But there is

one huge obstacle of stardom that many celebs struggle endlessly with;the media. Obviously fans want to know about the lives of their idols, but when do the media cross the line? And how do these infinite tabloids, rumors, lies, and gossip that the media generates affect the lives of the celebrities?To better grasp the ups and downs of fame, I chose to focus on one of today's most sought-after music groups, 'Nsync. Of course there are many other celebrities who battle their own with the media, such as BSB, Limp Biskit, Britney Spears, and Jennifer Lopez. But with their recent $150 million law suit filed against them, the consistent 'boy-band' critics, and the much anticipated new album coming out this week, 'Nsync have undoubtedly

become one of the most talked about artists in the media today. The upcoming album, cleverly titled 'No Strings Attached', will be released to the

music-hungry fans on March 21st. As the third album released in the U.S. since the groups' breakthrough here in May of 1998, this album has a

high potential to rip up the charts. However, there is also the underlying fact that the new release will inevitably bring about more gossip crazy journalists and persistent critics.

Band member Justin Timberlake, 19, recently co-starred in a TV-movie called Model Behavior. Ironically, Justin found himself portraying the role of Jason Sharp, a young heartthrob who is fighting with himself to remain a 'normal' teenager amongst all the hype of fame. Justin has been fighting

that battle in his own life for the past few years now.Ever since Britney Spears opened for the band in the winter of 1998, fans and media have continuously hounded Justin with rumors of an alleged romance between the two. After over a year of denying the claims, Justin has finally started to

sigh and keep his personal life to himself, realizing the media never takes "no" for an answer. They continue to pry into his and the band's lives, searching for any secret or personal information to reveal to the fans.

As Justin admitted to Rolling Stone, "It's been a little tough. There's definitely been times when I was totally depressed…I just feel like there's

two of me: the public-eye me and the guy-who-brushes-his-teeth-twice-a-day me."

As of now, members Chris Kirkpatrick and JC Chasez are the only two who have been open about their relationships. Chris, the oldest member of the

group, has been dating someone for over two years now. Surprisingly, the fans and media have not made too big of a spectacle out of it. Member Joey

Fatone is currently single, and enjoying just going out and having fun with different people. And what about Lance Bass? Lance also found himself caught in

the media trap last year. The 20-year-old was dating actress 'Boy Meets World' star Danielle Fishel for a period of nine months. Due to the popularity of

both stars, the relationship ended up impossible.Mobbed wherever they went, it was a rare occasion to be able to spend five minutes alone. Rumors

also spread like wildfire across Internet and thet abloids. Realizing they didn't stand a chance as a couple, Lance and Danielle broke up shortly after

her senior prom. Although they're still close friends, both realize it may be another ten years before they can have a 'normal' relationship.

Then there are about 10 million screaming, crazy fans to deal with. 'Nsync love their fans immensely, and realize that without their fans they wouldn't be where they are today. However, there are times when the fans can get out of hand. Picturing closing your eyes at 2:00 AM, in the attempt to

catch a few hours of much-needed sleep.

Suddenly the hotel phone starts ringing, people are tapping on the doors, and high-pitched screams of your name can

be heard from the lobby below. This is a typical routine for the boys of 'Nsync. Besides lack of sleep, Nsync has found that their family

members have also faced drawbacks of their fame.

One of Chris's younger sister

now has to attend home schooling, because it got to betoo much of a

challenge

for her to go through five minutes without being hassled about her older brother. Other siblings and family members of the band also have had to learn to adjust to the new fame of their son or brother. The parents of

Nsync have grown to expect at least five visitors to their houses each day from curious fans. Yet, Nsync and their families have all managed to embrace

the fans as much as possible. At times it seemsoverwhelming, but it is just another characteristic that comes along with worldwide fame.

Dating and fans are just a few of many obstacles celebrities face daily. There is also the initial shock of seeing your faces plastered on the cover of millions of magazines and newspapers worldwide. The real setback,

though, is usually what the critics have written inside the magazines and newspapers. Notorious for targeting 'boy-bands', many critics have written

nasty, insulting, and rude articles about 'Nsync and other young teenage stars. Numerous criticizing articles have been written about the 'bubble-gum' pop music that is so popular with teenage girls today. The

critics and 'boy-band-haters' of today claim that this is 'fake' music that involves no real talent. The media has also gone on to criticize the various bands and stars for copying and following in each other's footsteps.After traveling on a bus all night, doing interviews and appearances all day, and performing to a sold-out show almost every day, how does 'Nsync deal with the bashing comments such critics have made?Surprisingly, the band members have managed to not dwell on the accusations. As long as the

fans are happy, and as long as they are, 'Nsync, are satisfied

with their music, the critics comments don't mean a thing. Many years of dedicated,

teeth-gritting work is what has gotten 'Nsync to the high point they

are at today. None of the members forget the eight-hour-long days of rehearsals they used to do, while also juggling school and work. Nor have they forgotten the days when their 'fans' consisted of ten people listening

to them singing a cappella in a coffeehouse. Through their hard work, and dedicated love of music, 'Nsync have finally gotten past the days of scraping by just to make do. They're now able to share their talents and love with the rest of the world. But somewhere along this journey 'Nsync also came to realize that fame is not all what it is cracked up to be. Lance Bass told Rolling Stone, "You realize what hard work it is and that it's not glamorous. It's like going to Disney World, going into the tunnels and seeing Cinderella smoking a cigarette. The wholemagic is gone."

Fame always brings along downsides such as these.

The important question is, 'Is it all worth it?' Some stars live their whole life never knowing the answer to that question.

Others find out the hard what that for them, no it was not worth all of the hassle and pain. As their fame grows though, 'Nsync

have come to realize that yes, to them it is all worth it. Even through all of the depressing days, the lonely moments, the confusion, and the frustration, in the end those are just minimal downsides. 'Nsync's fame and popularity has opened them to opportunities and experiences most of us can never even begin to fathom.Of course there are the fancy cars, exotic vacations, and pricey homes.

But as Nsync has discovered in the past few years, the best part of being famous is their ability to reach out and touch the lives of their fans across the world.

Many people often want to know why so many millions of girls go to all limits of craziness over groups such as Nsync. Ask any fan and one of the first responses out of their mouths will be 'Because they're sooo cute!' But following these comments, fans also usually mention how much 'Nsync's music helps them through the bad and the good times of their everyday life. The majority of teenage girls today face many different frustrations and levels of stress in their lives. There are the parents who never seem to understand us the way we want to be understood, boyfriend struggles, and the battle of 'fitting-in.' On top of that, teenagers battle with self-esteem issues, friends, stress from school and sports, along with the many other normal teenage problems. Having a group such as 'Nsync is a way for girls to maintain some level of stability, comfort, and control in their lives, along with having some fun and excitement along the way. JC summed it up best when he said, 'The beauty of music is that everyone hears it their own way and every song you hear leaves an impression on you thatalters the way you hear everything from that point on."By looking out into the ocean of fans singing along word-for-word at a sold out concert, there is no doubt for 'Nsync whether or not it is all worth it. They have also participated in a wide variety of charity events, as they feel it's important to try to give back to others as much as they can. Despite the fact that the media is forever intruding into the guys' personal lives, and despite the fact that they've lost what most people would consider a 'normal' life, the members of 'Nsync have never regretted their fame.We love it. We enjoy every minute of it. We love our fans" Justin Timblerlake said in an interview. At the moment, 'Nsync is greatly anticipating the release of their new album, 'No Strings Attached'. The CD has more personal meaning to the guys, and they are anxious to see how the fans respond to it. It's safe to assume that the album will be a record-breaking hit. Huge promotions and non-stop tours are already being planned. The new millennium looks to be another successful year for the band, despite what the critics may think or how the media may act. Above all else, Nsync is concerned with getting their music to their fans. "Thank you for everything. We wouldn't be here if it wasn't for you," Justin once said

in an honest voice, while thanking fans of the group. "God bless you, you've been the reason we've made it this far, and hopefully we can keep pleasing

you."

Posted 3/28/00
'N Sync Tickets Go 'Bye Bye Bye' Jive act 'N Sync's "No Strings Attached" tour is believed to have set a single-day record for ticket sales last Saturday, the first day the tickets were available. More than 1 million tickets were sold, and 51 of the 52 shows put up that day sold out. The total gross was about $40 million. Only a May 14 date at Nashville's

Adelphia Stadium did not sell out, but it's expected to do so shortly. The tour, sponsored by MCY.com and

Nabisco and produced by SFX Touring, begins May 9 at Mississippi Coast Coliseum in Biloxi.

The first leg ends July 31 in Hershey, Pa.; a second la of about 30 dates will be announced soon. MCY.com will record concert and backstage footage for an upcoming webcast. Meanwhile, it appears that 'N Sync's Jive album "No

Strings Attached," released last week, will not only shatter

Backstreet Boys' one-week record of 1.13 million units, but will break the 2 million

mark. SoundScan results will not be released until Wednesday morning, but industry observers say they are confident that the 'N Sync set surpassed that figure. Ray Waddell, Nashville; Ed Christman, N.Y

Posted 3/16/00
Make sure that youand your friends are at your neigorhood Wal-Mart stare March 21st at 7pm EST for a exclusive Nsync event In celebration of Nsync "NO String Attached" Album release , all Home Departments

will be premiere crazy seens of the guys taking over a

Wal-Mart store intimate interviews with Joey, Lance, Chris, Jc, Justin and more! The progrem will be reroadcast again at 8PM EST and 9PM EST

Posted 3/16/00
Nsync is chatting on AOL today at 7pm EST keyword (Live)

Posted 3/8/00
Nsync's Upcoming album '' Nsync Attached'' features there 'er New debut single bye bye bye bye No Strings Attached album

will be release on march 21, 2000. So go and buya few copies

on the first day so that Nsync can beat Bsb record numbers of sale on the first day

Posted 3/8/00
Nsync's "bye bye bye" 22 days at the #1 spot on Trl way to go let keep number 1

until they retire the video .